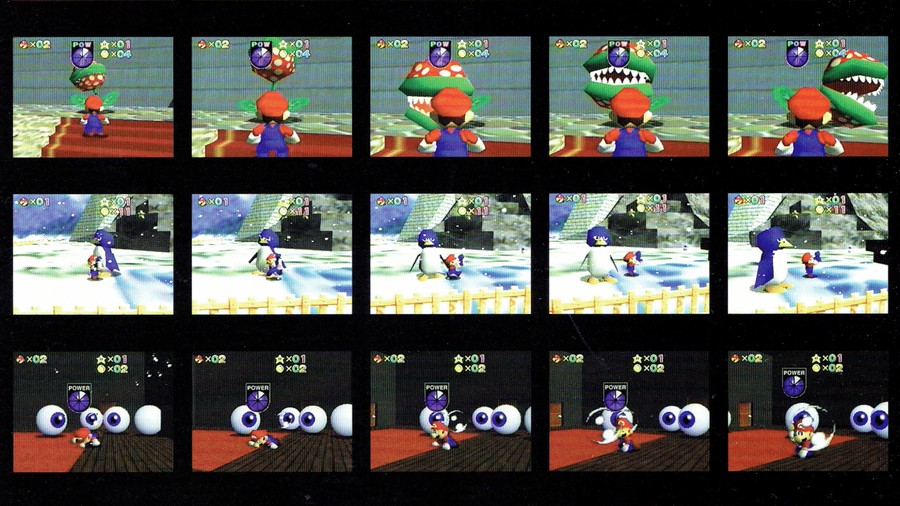 Be ready to unravel more of Nintendo's history, save the collaboration between sites Fantasy Forest, @Render_Archive and @Nintoid The highly sought after Nintendo Company Report has been uploaded since 1996. The release includes plenty of nostalgic gaming material from sales reports to upcoming hardware features, and it also features some exclusive early promo renders. What's the best part? Read it online for free!
Company reports that you can download and read Phantasm's Blog, has everything we'd expect to find in Nintendo's annual roundup, complete with images of all its puppets (we mean Mario, Kirby, and Link, of course). But perhaps the most interesting nugget of rare retro goodness comes from a screenshot reel of the 1995 Nintendo 64 B-Roll, which shows a small portion of Super Mario 64 at a stage many die-hard fans of the game might not recognize.
Don't worry, you won't lose your senses and need to play Super Mario 64 again (though it's never a bad idea), no no, this mysterious ghost stage never made it into the final game, making it one of the One of the many mysteries in the history of Nintendo's development. @Forest Illusion These five individual scans have been stitched together in GIF format so we can see this mysterious, eye-filled stage in action:
Granted, it's only a second of "reconstructed" footage that barely makes it to a full level, but even a fraction of this editing level is enough to let us breathe a sigh of relief – take on those nightmarish Mr. I's Eyeballs on an underwater stage? no, thank you!
The 1996 Nintendo report contained much more than single-second gameplay clips, including a heartbreakingly optimistic tone (people who keep dreaming) when promoting the virtues of the Virtual Boy. Of course, the entire report is in Japanese, so those who want to dig into the features and writing will have to settle for our dreaded "best attempt" for translation software. But hey, the photos are still good!
What do you think of this never-before-seen ghost Mario stage? Put on your work clothes and let us know your memories of the game in the comments!